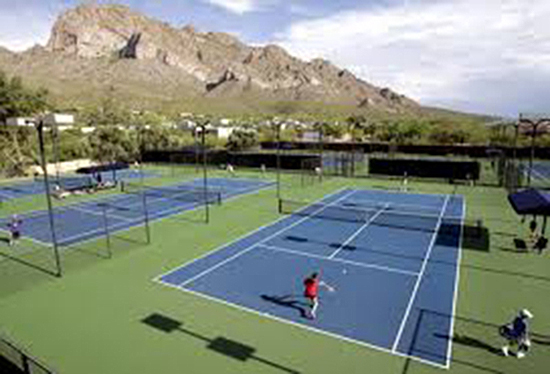 The average annual amount of sunny days in Tucson, Arizona is is 350 with an average high temperature of 65-75 Fahrenheit (19-23 Celsius) in January. This makes Tucson a year-a-round tennis center for everyone. We have one of the largest tennis centers in the USA and home to many national and International tennis tournaments: the Reffkin Tennis Center. There are many other world class tennis centers such as the Tucson Racquet Club, Tucson Country Club, plus others.
With so many sunny days you don't have to worry about squeezing in as many games as you can in a day when foreboding weather is approaching. In Tucson you can play daily anytime you want, whether it's a sunrise start in the early morning during the warmer season or an afternoon volley during the winter when it's warm and everyone else in the country is freezing.
Combine Tucson's warm friendly people, cultural aspects of it"s Southwestern culture, and it's thriving arts district; you have a winning combination for a great time. Alma del Sol is just minutes away from the Saguaro National park, the Arizona-Sonora Desert Museum, and Old Tucson, so there's plenty of things to do for the whole family. See our menu area under sports for direct links to some of the local tennis clubs.
Book your tennis outing for your group or yourself today in one of the most beautiful areas and custom homes in Tucson, Arizona. Use our contact form for more information or call us at:
Alma Del Sol Office: (520)883-2256

Edit